FRAME Access 2021 – « Make the best of your archives!"
FRAME Access 2021 « Make the best of your archives!" June 3-4 and 7-9, 2021 Online training / in English The call for applications is open until 13 May 2021 – You will be notified by email Since 2010, INA organizes the annual training program FRAME. Through theoretical or feedback presentations, case studies and participative […]
לפרטים נוספים >
✖
FRAME Access 2021
« Make the best of your archives!"
June 3-4 and 7-9, 2021
Online training / in English
The call for applications is open until 13 May 2021 – You will be notified by email
---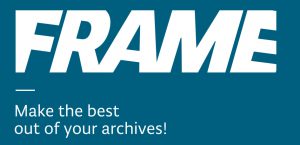 Since 2010, INA organizes the annual training program FRAME. Through theoretical or feedback presentations, case studies and participative workshops, the FRAME Access training program participants will explore different access models, discover how to design an editorial strategy, address issues of rights management and documentation, which are all essential conditions to give access to audiovisual content. Innovation will be at the heart of the program, but the basics of archiving will not be forgotten either.
FRAME Access objectives:
• Present and promote innovative and inspiring projects, examples and models of access to audiovisual archives
• Gather European and international professionals working in the cultural industries and media areas, to develop and strengthen this professional community
• Enable peer-exchange, solutions, best practices and experience sharing between speakers and participants
• Build a common language and shared professional practices
FRAME is dedicated to European and international professionals working for the preservation, management and access to audiovisual archives. Professionals from all areas are welcome whether their experience, level of expertise and field of activity. They can work for broadcasters, film archives, galleries, libraries, museums, patrimonial institutions, production companies, etc.
Tuition fees
Full rate: 500 € per participant
How to apply?
To apply to FRAME Access 2021, you have to fill out the form, in order to present your professional and training background, your professional project, the reasons why you would like to attend the training session. 
Conditions of applications & admission
To apply